Thailand Elite Visa: Terms, Rates, Privileges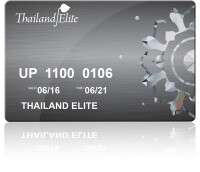 Thailand Elite Visa: Terms, Rates, Privileges
Wishing to stay in Thailand visa hassle-free? Enter and leave the country whenever you like to, and for whatever period?...
Thailand provides a variety of visa types according to a purpose and terms of your stay in Thailand, such as:
Tourist visa, visa upon arrival or visa-waiver entry stamp for 15 or 30 days.
Educational visa.
Retirement visa (50 years old minimum age requirement).
Business visa (must be supported by a work permit).
Visa for a spouse of a foreign employee (linked to a spouse's business visa).
Visa for a spouse of a Thai national.
A guardian visa for one parent (if a child is officially studying in Thailand).
There are specific requirements for each visa type or a visa-free entry. You will need to bear certain documents, sufficient funds on your Thai bank account and enough time to follow the procedures. Each visa is limited to certain period of time, from a month to a year. Even being a legitimate property owner in Thailand, or making essential investment into Thai economy will not generally help much to soften the respective terms.
The "Golden key", however, opens any door! For a certain reasonable fee, a foreigner can become a privileged member of Thailand Elite Club and get a privileged long-term visa under the patronage and with support of Tourism Authority of Tourism.
Types of Thailand Elite Membership
The Membership of Thailand Elite Club is available for a period of 5, 10 or 20 years, for a single person or for a family, depending on a package chosen. Currently, there are generally 7 membership packages each with own set of terms, validity, benefits and related costs.
The cost of golden key
The minimum cost of the membership with a minimum visa term 5 years and a minimum list of benefits is 500,000 Baht only. The maximum period of visa term is 20 years and the maximum cost - 2,000,000 Baht.
| | | | |
| --- | --- | --- | --- |
| Visa term | Price (1 person), Baht | Price (calculated per year), Baht | + additional family member, Baht |
| 5 years | 500,000 | 100,000 | 300,000 |
| 10 years | 800,000 | 80,000 | 700,000 |
| 20 years | 1,000,000 | 50,000 | 1,000,000 |
Privileges and benefits
Standard list for all types of Membership
VIP greeting and escort on arrival and departure by Elite Personal Assistant
Expedited immigration formalities and passport control processing
Exclusive arrival and departure lounges
90 day Report, Immigration Service,
Business Networking,
Expedite Driver's license
Expedite & Assist for opening bank account
Benefits and Special Discounts at all King Power Duty Free branches, Golf Courses, Spas, Hospitals, Hotels, Dining Establishments and Leading Department Stores
24 hour Member Contact Center
Extended list will also include:
Complimentary limousine transfer from airport to residence or hotel - airport on international flights (within Bangkok, Chiangmai, Phuket and Samui)
Golf : Complimentary green fee with up to24 usages per calendar year
Spa : Complimentary spa treatment with up to 24 usages per calendar year
Hospital : Complimentary annual health check up
How to become a member
You can become a member of Thailand Elite Club staying abroad or in Thailand. The procedure will consist of the following steps:
1. Check the criminal records of candidate in Thailand
2. Fill in the form and process the payment for the Membership package
3. Receive the confirmation of Membership by Thailand Elite
4. Receive a visa upon arrival to Thailand or at the immigration bureau in Bangkok (in case of staying in Thailand, if the term of the current visa allows you to avoid leaving the country)
Thailand Elite: advantages
1. To become a member you need only passport, no documents, confirming the place of residence, money on bank accounts, income in Thailand and abroad, ownership of real estate etc. are needed.
2. No questions about your purposes of stay in the country will arise neither from the immigration service, nor from other Government offices.
3. Thailand Elite Membership is your status in Thailand. You are not a student, not an employee not a retiree and the attitude to you is different, you will feel it.
4. And the last but not the least. None of us is protected from troubles abroad: thefts, road accidents, misunderstandings with local residents. Should the policemen intervene in the situation they will first check your type of visa, Thai driving licenses, etc. Being the Thailand Elite Member and making a call to the Contact Center can be essential in a certain disputed issue in turn it to your advantage.
Thailand Elite provides VIP services and the cost of these services corresponds to the name of the club. Terms of payment can't be negotiated; installments or discounts are excluded. Therefore, the Thailand Elite Membership can be a solution only for those who can afford such expenses to become independent from visa limits in Thailand.
By Aleksandra Agapitova
All the rights reserved.
Copyright without prior written agreement of author is strictly prohibited.
For more information, please call us: + 6694-886-7492 or lira@investeast.co.th