How to make a general meeting of condominium co-owners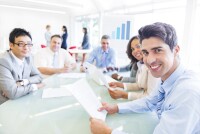 The first general meeting of co-owners is organized by the manager within 6 months after the registration of the condominium. At the first meeting, the condominium committee has to be elected, after committee have to confirm the rules of the condominium and chose the manager.
Subsequent ordinary General Meetings are convened by the condominium co-owners committee every year within 120 days after the end of the accounting year for the following decisions:
⠀Discussion and approval of the balance sheet.
⠀Discussion of the annual report.
⠀Appointment of an auditor.
Other issues.
Initiate the convening of an extraordinary meeting can:
Manager
Committee (by majority vote)
Co-owners - 20% of the total number of votes
After receiving a request from a manager, committee or co-owners, the committee must convene an extraordinary meeting within 15 days.At convocation of general meeting, the invitation must include:

Meeting Location
Time
Agenda
Issues for discussion
The invitation must be sent to all co-owners no later than 7 days before the Meeting.

A meeting will have a quorum if at least 25% of all votes are presented.




Author: Aleksandra Agapitova

All rights reserved.

Copying and use of materials without the written consent of the owner is prohibited.