Visa issue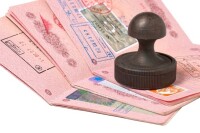 You are arriving to Thailand. Going to passport control, take your queue with thousands of Chinese and Indians. Finally come to the tired immigration officer. Ups - you already have three 30-days stamp. Officer refused to let you in with one morestamp notwithstanding showing return ticket, cash and the pictures of your house in the Land of Smiles.
Nothing to do, you have to fly to a nearby country to get a tourist visa. Laos or Malaysia. Oh yes, it is necessary to check the schedule of work of Thai Consulate and the conditions of getting tourist visas.
Few days are lost for the road, to apply, and to get passport with visa. Good, if you are traveling alone. But what if you have your children with you.
Coming back to Thailand. Passport control. Queue of Chinese. Tired officer still doesn't like your passport. You are I Thailand but it was not easy. Next week you have a meeting with friends in Singapore. And you do not know if they let you back home to Thailand after...
We can offer you another option:
Arriving in Thailand. Alone or with your family go through passport control at VIP-hall. Drink coffee in the lounge area. Get in your limousine and go home with maximum comfort. A week later, you order a limo ride to the airport, go through passport control at the VIP-hall, drink champagne in the lounge area and in a couple of hours you already Clarke Quay.
You want to know how this is possible? Check our offer or call us now!
+6694-866-74-92 (WhatsApp Viper)
Author: Aleksandra Agapitova
All rights reserved.
Copying and use of materials without the written consent of the owner is prohibited.