Presentation of the new book by Khun Vikrom Kromadit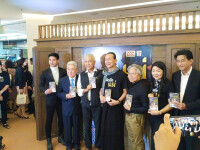 On 9th of November famous Thai writer, businessman and philanthropist Khun Vikrom Kromadit presented his new book "My Mom".
Presentation took place in theSiam Paragon lifestyle section. Family members, friends, guests and fans came to congratulate and celebrate the new book. Vikrom Kromadit is the founder and Chief Executive Officer of Amata Corporation PCL and a Chairman of the Amata Foundation. In 2007, he ranked as 27th of the 40 richest men in Thailand by Forbes Magazine and the next year named him one of the 48 heroes of Philanthropy in Asia. Amata corporation operates three industrial estates in Thailand and Vietnam. Vikrom Kromadit author of more then 8 books, his epic "Be a Better Man" is translated in English and Russian languages.