Bangkok is on the second place among the most visited cities in the world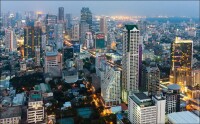 Euromonitor International has released its annual Top City Destinations Ranking 2017 rating, covering 100 of the world's leading cities in terms of tourist flows.
According to the report, Hong Kong is recognized as the most visited city in the world (26.6 million people). On the 2nd place is Bangkok with 21.2 million people, in third place London with 19.2 million tourists. Following is Singapore with 16.6 million, but as expected in the near future, Singapore will overtake London by the number of tourists, thus, in the leading three will be only the cities of Asia. At the 5th place is Macao with 15.4 million people.
Asian cities dominate in the global forecast and their number is growing. For example, in 2010 in the Top 100 cities hit 34 cities from the Asia-Pacific region, and in 2017 the number of cities increased to 41 cities.
The reverse situation develops with the European cities, which lose their positions in connection with the current geopolitical situation.
Source: blog.euromonitor.com