Global plans for infrastructure development in the Eastern Economic Corridor (EEC) for 2018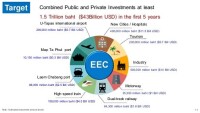 The next year in the East Economic Corridor (EEC) is planned the implementation of expensive projects with a total cost of 745 billion baht.
According to the Minister of Transport Mr. Arkhom Termpittayapaisith, the investment plan for 2018 for the EEC covers 103 projects, most of which should be realized within the next 5 years.
These are the following projects: improvement of the roads linking the port of Laem Chabang to U-tapao airport, expansion of the Map Ta Phut port and development of highways in the three provinces of of EEC, the third stage of the expansion of the Laem Chabang port, the launch of a center for repair and maintenance of U- tapao and high-speed rail network Bangkok-Rayong.
It is planned that by the 1st quarter of 2018. the reconstruction plan for the 3rd stage of Laem-Chabang Port will be ready. According to experts, the expansion of the port will require an additional investment of 88 billion baht. The project is aimed at doubling the capacity of the port to accommodate 20-foot equivalent units.
Thai Airways International and Airbus are planning to sign a joint venture agreement in the next few weeks on a aircraft repair and maintenance project for the first stage of the U-tapao airport expansion. It is expected that the total investment in the U-tapao project will reach 200 billion baht.
The technical tasks for these projects are planned to be completed by the first quarter of next year.
The expansion of U-tapao is part of the plan to promote Thailand as a regional aviation hub. The planned capacity of the airport in the next 5 years is 15 million passengers per year, 10 years later - 30 million passengers and in 15 years-60 million passengers.
Before the end of this year, it is also planned to finish with technical documentation for high-speed rail link Bangkok-Rayong with a total cost of 158 billion baht. This railway will connect the airports of U-tapao, Suvarnabhumi and Don Mueang.
Source: bangkokpost.com