Significant growth of the country's GDP and positive forecasts for the future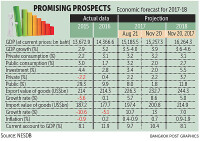 Thai GDP in the third quarter of 2017 showed the most significant growth, starting from the first quarter of 2013, facilitated by exports, private consumption and investment. This is the largest economic growth in 18 quarters.
According to the National Economic and Social Development Board (NESDB), Thailand's GDP in July-September increased by 4.3% compared to the same period last year.
In the first 9 months of 2017, the economy grew by 3.8% compared to the previous year.
Export grew by 12.5% in the third quarter to 61.6 billion $ USD (equivalent to 2.02 trillion Baht).
According to Mr. Porametee Vimolsiri, the general secretary of the NESDB, private consumption grew by 3.1% year-on-year in line with the growth in personal incomes, private investment grew by 2.9%, supported by increased investment in machinery and equipment.
There is also a growth in the tourism sector. In the third quarter, the total amount of tourism revenues increased by 9.5% compared to the same period last year and amounted to 693.4 billion baht.
According to NESDB forecasts, in 2018 economic growth will accelerate and amount to 4.1%.
NESDB forecasts Thailand's GDP growth in the range from 3.6 to 4.6% next year, with a favorable global economic growth and increased public and private investment.
The Siam Commercial Bank's Economic Intelligence Center (EIC) estimated that strong economic growth in the third quarter was due to increased exports, tourism and more active private investment and consumption, which clearly confirms the recovery of Thailand's economy. Based on the data received, EIC increased its economic growth forecast to 3.8% this year from an earlier 3.6% and predicts economic growth in Thailand in 2018 by 3.7-3.9%.
Source: bangkokpost.com