Thailand attracts wealthy tourists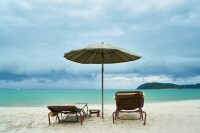 The Thai government is seeking to attract wealthy foreign investors to the Kingdom. One of the motivating factors in the struggle for this segment of tourists are visa privileges.
According to the Minister of Tourism and Sports of Thailand, Mr. Kobkarn Vattanavrankul, the Government is tasked to ensure that wealthy foreigners not only come to the country for holidays, but also for living, investing or retiring here.
Many investors have already purchased apartments in the Kingdom of Bangkok, Chiang Mai, Phuket and Pattaya. And for a longer and more comfortable stay in the country, they need long-term visas. One of the options for such people is to obtain a long-term visa Thailand Elite.
This program was established in 2003 and during this time 4800 long-term visas were issued, which allow you to stay in the country from 5 to 20 years. On this year, 1200 such visas have already been issued.
Source: thailand.polpred.com