News of company Thailand Privilege Card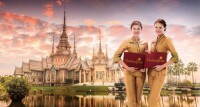 Thailand Privilege Card Co. (TPC), the operator of the Thailand Elite visas, intends to launch additional types of visas next year that will help increase the number of members of the elite club. Until the end of September 2018, the company will continue to focus on expanding its membership among investors, business owners and retired foreigners. At the moment this is a target market, to which the aspirations of the company are directed.
In addition, potential target are investors who buy real estate in Thailand at a price from 5 million to 10 million baht.
At the moment, TPC has 7 categories of membership cards, varying by privilege and price (from 500,000 to 2 million baht).
During the most recent reporting period that ended on September 30, 2017, TPC reported revenue of 663 million baht, up from the previous year (403 million baht). Net profit amounted to 389 million baht, the figures are also higher compared to year 2016 (201 million baht).
TPC President Mr. Pruet Boobphakam expects an increase in the number of the members after the introduction of new categories of cards, as well as an increase in distribution channels.
During the past year, TPC has worked with company Henley & Partners as a global dealer and its 28 offices around the world. Also, TPC began working with IBC Aviation as a specialist in European markets for communication with potential customers from France, Luxembourg, Belgium, Monaco, Switzerland and French-speaking territories.
As of November 20, 2017, the Thailand Elite Club has 5 040 members from different countries.
Cardholders use not only special visa opportunities, which allow members of the club stay in Thailand from 5 to 20 years. A 20-year visa is the longest visa issued by the Government without having to leave the country. The owners of Thailand Elite cards also have the right to special discounts on services such as golf, spas, restaurants, hotels, best hospitals and discounts in the country's leading stores.
Visas Thailand Elite has already received good reviews from wealthy Chinese travelers who prefer a country of smiles for a comfortable stay. This year the most numerous are the Chinese members, followed by the British, Americans and Japanese.
TPC, which is wholly owned by TAT, intends to further promote Thai tourism and attract wealthy travelers to Thailand.
Source: bangkokpost.com