The beginning of construction of a high-speed railway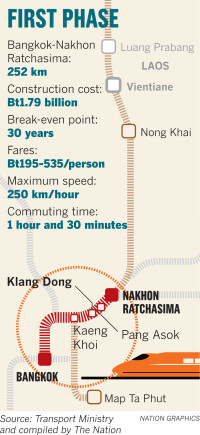 On December 21, 2017, in the presence of the Prime Minister of Thailand, Mr. Prayut Chan-o-cha, a solemn ceremony was held to commence the construction of the high-speed railway project between Bangkok and Nakhon Ratchasima. The ceremony took place in a historical location in the Tambon Klangdong in Nakhon Ratchasima province, where over a century ago King Rama V initiated the construction of the country's first north-eastern railway. The total length of the high-speed railway is 252 kilometers. This project will be implemented in cooperation with China, representatives of the Chinese government also attended the ceremony. The total cost of the project is 179 billion. Bath.
According to the Minister of Transport Mr. Arkhom Termpittay-apaisith, construction will be completed by the end of 2018.
This project will be a one-stage high-speed rail system Bangkok-Nong Khai, which will connect Thailand with Cambodia, Laos, Myanmar and Vietnam, as well as with China and India in subsequent phases. Thus, with the implementation of this project, Thailand will become a transport and logistics hub for the ASEAN and South-East Asia region.
Source: nationmultimedia.com