New record tourist flow in Thailand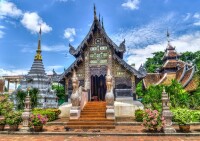 At the end of 2017, on December 29, the country was visited by a 35 million tourist for the past year. Thus, a new record peak was taken and the predicted level was beaten. As expected earlier, in 2017 the country of smiles will be visited by 33-34 million people.
According to information from the Tourism Authority of Thailand (TAT), the tourist arrived to the country by Qatar Airways by flight from Doha.
According to information for 2016 year, Thailand was visited by 32.6 million people.
Source: bangkokpost.com