New target of real estate in Thailand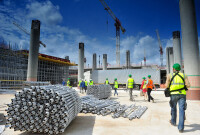 DDproperty Portal prepared a forecast for the development of the real estate market in Thailand in 2018: according to the portal, developers this year will focus on retiring customers and the requests of this age segment.
According to analysts, in the Kingdom will be more mixed projects: when in one building there are residential, office and commercial premises.
Real estate developers are increasingly joining together to implement joint projects, and this applies not only to Thai companies, but also to foreign developers. In particular, more and more Chinese and Japanese companies enter the Thai market, as they face a number of restrictive measures in their countries. Thus, Thailand has become a place where companies have the opportunity to expand their business and enter to the international level.
As noted by the portal DDproperty, the main type of development, still remain condominiums, but now they will be often built in the small streets, due to lack of land on the main roads.
In 2018, a new round of demand for real estate in Thailand from foreign citizens are expected, which traditionally comes in the wake of a rise in tourist activity.
Source: thailand.polpred.com