Qatar Airways launches regular flight to U-tapao airport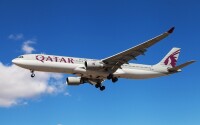 On January 29, 2018, Qatar Airways's first flight from Doha (Qatar) landed at U-tapao airport, which is near Pattaya. By the way, this is the first airline from the Middle East, which has opened direct flights with the resort city.
A new route between Doha and U-tapao will be implemented 4 times a week. The airline offers onboard 5 * comfort on a Boeing 787 Dreamliner with 22 seats in the business class and 232 seats in the economy class.
Qatar Airways has been successfully providing services in Thailand for more than 20 years. The airline began service from Bangkok airport, its first destination in Thailand. Since then, the airline has steadily increased the number of flights to the country due to the huge demand of passengers. Currently, Bangkok has 35 flights a week, 14 flights to Phuket, daily flights to Krabi, and 4 flights a week to Chiang Mai. The new route increases the total number of flights to Thailand to 64 per week.
In addition, starting March 25, 2018, the airline will increase the frequency of flights to Bangkok to 6 flights per day, bringing the total number of flights to Thailand to 71 flights per week.
Source: www.qatarairways.com