Russia regards Thailand as a key partner in Asia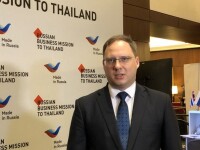 The Russian business mission, led by Alexei Gruzdev, Deputy Minister of Economic Development, visited Bangkok on February 22 to explore investment opportunities in the Eastern Economic Corridor. The meeting with Thai officials and investors discussed mutual investments. The delegation included representatives of more than 50 leading Russian companies working in such areas as transport and logistics, infrastructure development, finance, medicine, biotechnology and energy, among them the civil aviation company Sukhoi, Russian Technologies, the State Atomic Energy Corporation Rosatom and OJSC "Helicopters of Russia", Kaspersky Internet Security and Group-IB. Particular attention was paid to the defense industry of Russia, IT and digital technologies, as well as cybersecurity.
Alexei Gruzdev said that Russia views Thailand as a key partner of Asia as part of its strategy to expand trade and other ties with the countries of South-East Asia. In addition, Russia is ready to participate in the development of Thailand's infrastructure, including the high-speed railway project, the development of ports and the air traffic control system for U-Tapao airport. The Eastern Economic Corridor (EEC) is of particular interest to the Russian side.
The visit of the delegation high hopes for the development of bilateral relations between Thailand and Russia, both at the state level and at the level of private investment.
Source: www.nationmultimedia.com