Progress in the construction of the high-speed railway of Thailand-China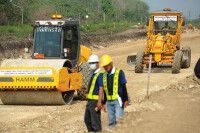 According to information from the Department of Highways of Thailand, the construction of the first section of the China-Thai high-speed railway project went smoothly and 7% of the construction was completed.
Remember, in December 2017, Thailand and China jointly launched the construction of a high-speed railway in Thailand from Bangkok to the north-eastern province of Nakhon Ratchasima or the 253-kilometer first segment of a high-speed railway between China and Thailand.
After the completion of the railway will be the first high-speed railway in Thailand and the train will be able to reach speeds of up to 250 km per hour.
Source: english.gov.cn