Bright future of Pattaya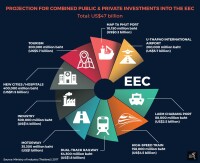 Recently, in the business sphere, much has been said about the Eastern Economic Corridor (EEC) and its impact on the development of the region as a whole and Pattaya in particular.
So what specific bonuses will Pattaya and its residents receive when all the planned targets become reality?
1) The Pattaya city is located at the center of this region, which means that in addition to improving the infrastructure: high-speed train between Pattaya and Bangkok, new highways, a full international airport, which is in the immediate vicinity of the city, we also get great opportunities for business development, investments, and these are additional jobs, high class specialists and improving of infrastructure on the place.
2) The increase in the capacity of the Laem Chabang port to 18.1 million containers per year (7.7 million containers at the moment), which will be comparable to that of the giants' ports like Busan (South Korea) and the port of Hong Kong.
The increase in the capacity of the port of Map Ta Phut, which is located in the province of Rayong to 62 million tons per year (43 million tons at the moment). The port specializes in the transportation of gas, oil, coal and chemicals.
The city of Pattaya, by the way is in the middle between these two ports, which will be connected by rail lines and new highways.
3) A new high-speed railway line that will connect 3 airports: Suvarnabhumi and Don Muang in Bangkok and U-Tapao in Rayong. This line will consist of 9 stations: Don Muang, Bang Sue, Makkasan, Suvarnabhumi, Chachoengsao, Chonburi, Sriracha, Pattaya, and U-Tapao. It is already known that the train between Don Muang and Suvarnabhumi will move with speed of 160 km / h, and from Suvarnabhumi to U-Tapao 250 km /h, which allow to reach Pattaya from Bangkok in record time, avoiding traffic jams.
4) Extension of U-Tapao airport. At the moment, the airport has 1 working terminal with capacity of 700 thousand passengers per year (both domestic and international). In the process of the construction of the 2nd terminal, the construction of the third terminal in the near plans, as well as the 2nd runway, the training center for aviation, the expansion of maintenance and repair facilities, the free trade zone, the expansion for cargo aircraft and much more are also planned. The planned capacity is up to 20 million passengers per year. Thus, Utapao Airport will become a full-fledged international airport, which will unload the capital airports and become strategically important from the point of view of logistics and its location.
Source: remthailand.asia