Prime Minister insists on digital upgrade of the country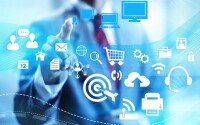 Thai Prime Minister Prayut Chan-o-cha spoke at the opening of the Digital Thailand Big Bang forum, which was organized by the Ministry of Digital Economy and Society Ministry at the Impact Exhibition Center in Bangkok. In his speech, he stressed that Thailand seeks to play a key role in stimulating digital development in Southeast Asia to help reduce inequality.
Thailand will take a chair of ASEAN in 2019 and will use this as an opportunity for the digital development of the region. The improvement of digital technologies is considered a key driver for the economy, production, trade, services and education, this point is a priority part of the country's 20-year national development strategy.
According to the Prime Minister's report, Thailand's digital competitiveness has improved significantly this year (the country ranked 39th in comparison with the 41st in the study of 63 regional economies), but this is not the limit, and Thailand plans to move forward with other countries. Malaysia lost several places (from the 24th place moved to the 27th), the Philippines fell from 46th to 56th place, Indonesia lost 3 places to 62nd, and Singapore lost its first leading place, and now is on 2nd place. Brunei, Cambodia, Laos, Myanmar and Vietnam were not included in the ranking system.
Source: bangkokpost.com