Thailand tourist visa fees waived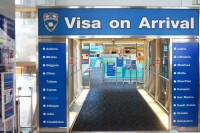 The Thai government has decided to stimulate tourists who are thinking about visiting Thailand in the upcoming high season and cancel visa fees on arrival for citizens from 21 countries.
During November and December 2018, tourists arriving from these countries will not be charged a government fee for a visa.
This list of countries includes: Andorra, Bulgaria, Bhutan, China, Cyprus, Ethiopia, Fiji, India, Kazakhstan, Latvia, Lithuania, Maldives, Malta, Mauritius, Papua New Guinea, Romania, San Marino, Saudi Arabia, Taiwan, Ukraine, Uzbekistan.
This event is aimed at attracting tourists to Thailand, especially from China, since in the past few months there has been a decrease in the demand for visiting the Kingdom by this citizens.
Source: bangkokpost.com