Company registration in Thailand is now available to everyone!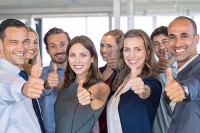 Company registration in Thailand is now available to everyone!
InvestEast offers you several options for business registration, depending on your goals and budget.
Economy Plan
If you leave in Thailand for a while, you know all about the registration of the company, have a legal address, Thai founders and Thai director, especially for you we have developed the Economy Plan, which includes a minimum of legal services that you need to pay.
Benefits:
You know what you are paying for, every Baht is reported and taken into account.
You only pay for legal services, you do not pay extra money for a lawyer's image, his beautiful office and his expensive secretary.
You are the one who is taking care all the processes in the company and do not depend on the mood of a lawyer.
Standard Plan
Do you want to get full legal support during company registration, ongoing consulting, use our temporary address while finding new office, and have our safe Thai Shareholders and Director? The Standard Plan fits all, who does not want to miss a detail, understand the legal and tax nuances of business in Thailand.
Benefits:
You get comprehensive advice on company registration and taxes in Thailand, we also advise you while registering company, getting work permit and visas.
You get a personal company's legal registration plan, and tax calendar.
All government fees, transportation costs and other expenses are included, no unexpected "additional costs".
You are sure that all documents are in order, we are keeping all the records and translate important documents into Russian.
Turnkey Plan
You are totally focused on business and do not want to be distracted by organizational issues?
Your task is to come to Thailand and start working immediately?
We can take care not only the legal works, but also all the primary tasks of business organization: find and equip an office in accordance with your requirements, find Thai employees, draft business and legal plan.
Benefits:
You tell us your requirements to the office and staff, and are arriving in Thailand when everything is ready for work.
Apart from full legal support, you get the answers to day-to-day questions about business.
The list of services that can be included in this Plan is not limited. Not only we prepare your business to work, but also to carry out market research, prepare a business plan, hold preliminary negotiations with potential partners, and more - at your request.
Choose your Plan and start registration of your business in Thailand today.
For all questions, please call us: + 6694-886-74-92 (WhatsApp, Viber).