Apartment hand over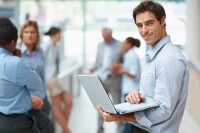 What to do if the developer has already completed the construction of your apartment, invited you for an inspection, but you are abroad? Usually, whether it is stipulated in the contract or not, you can appoint your representative, who on your behalf will inspect the apartment and sign the hand-over documents. But who can be your representative?
It is a usual thing, to ask your friends to make an inspection. However it should be considered, that representative must khow, what exactly he has to check. And I must be liable for the results of such inspection .
To carry out the inspection, the person in charge must have a sale and purchase contract with a description of the property included in the price of the apartment (equipment, built-in furniture, furniture set). The inspector must identify all the defects of the construction, finishing work and compliance with the quality of the terms of the contract. Also check the functionality of all appliances, air conditioners, furniture, doors and windows. As well as safety standards, the height of partitions on the balcony, compliance with fire safety rules.
In addition, if there is a doubt that the actual area of the apartment is less than the area specified in the contract, it is necessary to take measurements. The consequences of the difference between the actual area of the apartment and the area set forth in the contract will depend on how significant the difference is.
Our recommendations: to conduct an inspection, either use the services of an independent expert in this area, or hire a proper lawyer.
Author: Alexandra Agapitova
All rights reserved.
Copying and using materials without the written consent of the owner is prohibited.