Work permit for holders of Thailand Elite visa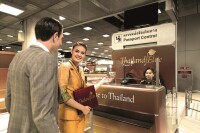 Thailand Elite plans to grant work permits for visa holders who invest US $ 1 million in Thailand. The type of investment is being specified. We are currently awaiting government approval of these privileges.
Only certain categories of Thailand Elite holders will be able to obtain a work permit, the cost of visa packages for which is 1-2 million baht. Investments in the country during the year must be at least 1 million US dollars.
The scheme will be different from the scheme of the Board of Investment (BOI), where the key point for obtaining an investor visa and /or employment is the choice of the type of activity, preparation and approval of a business plan.⠀
Thailand Elite is aimed at tourists with a high purchasing power. Many Thailand Elite visa holders are stopped before investing by the fact that with this type of visa they will not be able to participate in their business project. We hope that this restriction will no longer be presented in the near future.
Stay tuned with InvestEast news, we will keep you updated.
For all questions about obtaining a Thailand Elite visa and the possibility of obtaining a work permit, please contact + 6694-886-74-92.