Yellow-house-book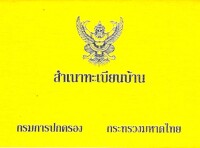 Yellow house books with the name of the owner in Pattaya can be obtained at City Hall, providing the following documents and information:
1. You must be in Thailand with a long-term visa. Those who come to Thailand with a tourist stamp or tourist visa are not eligible to receive a yellow house book
2. It is necessary to obtain a Residence Certificate from the immigration, the purpose is to obtain a house book (Tabien Baan).
3. Passport (first page) - the copy must be certified by the consulate, translated and legalized in the Ministry of Foreign Affairs of Thailand.
Attention: the name in Thai in chanote and in the translation of the passport should be written the same!
4. A document that confirms the personal data of the applicant:
- A guarantee letter from the embassy or
- Birth certificate or
- Marriage certificate or
- A document from the Land Department about the purchase of real estate or
- Other documents confirming personal data translated and certified by a certified translator
5. Two photos
6. Two Thai nationals witnesses who can confirm the identity of the applicant by presenting their ID and blue books.
A yellow house book with the name of a foreigner can be obtained only for one property. For the second and next objects you will receive only a blue house book without indicating the name of the owner.
What does the yellow house book with your name on it give to you?
1. Significant reduction of the real estate tax rate since 2020
2. The yellow house book can be used as a Residence Certificate in individual cases when it is required.
3. In some banks - a simplified procedure for opening a bank account.
4. Perhaps - the provision of discounts in government hospitals, as a "local resident".
This Information we cannot confirm, but we were informed of such precedents.
You can learn about the practical nuances of getting a yellow house book by calling: 087-348-57-03
Author: Aleksandra Agapitova
All rights reserved.
Copying and using materials without the written consent of the owner is prohibited.