Consultations for real estate and property issues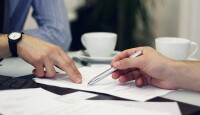 A new service of the consulting agency InvestEast - paid consultations for real estate and property issues.
The main difference from a free consultation, which can be obtained from the real estate agency on buying or selling, is that this service is not only for prospective buyers, but also for those who already own real estate or have signed a contract with the developer, but need professional advice.
Often after the signing the contract with the developer, or in the process of registering ownership, or selling property, owners in Thailand face a number of issues and problems. Legal advice will give you an understanding of your rights and responsibilities in a given situation and understanding of the chances of resolving the issue in court, while the real estate market dictates its rules and conditions.
Our real estate specialist has ten years of experience in the real estate market in Pattaya, hundreds of closed deals and a huge amount of practical knowledge. Ekaterina Okisheva is a specialist in international real estate CIPS, a member of the National Association of Brokers NAR (USA), member of the executive committee of the Thailand-Russian Chamber of Commerce and managing director of Alpha Trade International Co., Lts (member of the PREBA Pattaya Real Estate Association, member of the Thailand Association of Brokers TREBA, Thailand the Russian Business Council (TRBC), the Thailand-Russia Chamber of Commerce (TRCC), the Singapore-Thailand Chamber of Commerce). Brilliant reputation and many years of experience will provide you with competent answers to questions, practical aspects and a complete picture of the real estate market in Pattaya.
Consultations are conducted only by appointment by phone 082-211-8894. There are also written consultations and consultations on-line.
For all questions and for additional information, call 082-211-8894 or write katerina@investeast.co.th
For a free consultation on the purchase or sale of real estate please call 0880-284-284 or write to info@investeast-property.com