The dealings target between Thailand and China is planned to double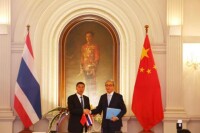 Thailand and China are seeking to strengthen their strategic trade and investment partnerships in order to achieve a turnover of 140 billion US$ (4.58 trillion Baht) by 2021, compared with 73 billion US$ at present. The partnership is planned to be developed within the framework of the Eastern Economic Corridor (EEC) of Thailand and the China's Belt and Road Initiative.
On the eve of the meeting, representatives of two countries, Mr. Wang Yong, a member of the State Council of the People's Republic of China and Deputy Prime Minister of Thailand, Mr. Somkid Jatusripitak, met.


It was noted at the meeting that Chinese investors are interested in investing in many EEC projects, such as a high-speed railway linking three airports, new generation vehicles, intelligent logistics, digital infrastructure, education, energy, tourism and satellites.
In addition, China plans to intensify multilateral cooperation with other countries in South-East Asia in the framework of free trade agreements within ASEAN.
The People's Republic of China also seeks to improve cooperation within the framework of the Regional Comprehensive Economic Partnership (RCEP), which is a free trade agreement between 10 countries of Southeast Asia and six other countries in the Asia-Pacific region.
As part of the visit of the Chinese delegation, the countries also held the 6th Thailand-China Joint Committee on Trade, Investment and Economic Cooperation and the Thai-Chinese Business Forum of 2018. Thai officials met with 504 high-ranking Chinese leaders. By the way, China is the fifth largest investor in Thailand, with an investment volume of 40-60 billion baht.
Source: bangkokpost.com