Thailand Overview
Thailand is located in Southeast Asia and has common border with Burma on the west and north, with Laos on the north and east, with Cambodia on the east and Malaysia on the south. On the west Thailand is bounded by the Andaman Sea, on the east by the Gulf of Thailand of the South China Sea. The state is divided into 76 provinces.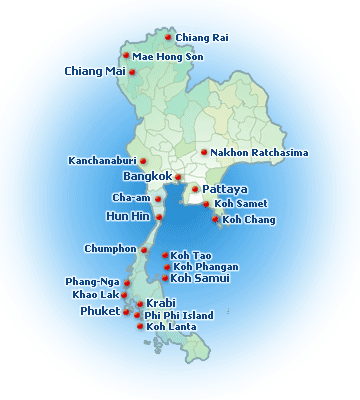 The official language is Thai
The capital is Bangkok
The form of government is the Constitutional monarchy
The King of Thailand is His Majesty King Bhumibol Adulyadej
The Prime Minister is Prayut Chan-Ocha
The State religion is Buddhism
The land area is 514,000 square kilometers
The water surface area is 2,230 square kilometers
Currency ฿ Baht (THB), 1 baht = 100 satang
Time zone +7
Railways 4,071 km
The road network is 64.095 km
Ports and harbors - Bangkok, LaemChabang, Pattani, Phuket, Sattahip, Sriracha, Songkhla
Number of airports - 28
Thailand is located in the tropical zone and has three different seasons:
March - May the average temperature is 30° C,
June - October (the rainy season), the average temperature of 28° C with high humidity,
November - February, the average temperature from 20 to 25° C (up to 5° C in the northern regions).