Visas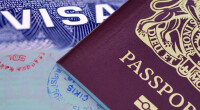 All the foreigners must have a visa corresponding to the purposes of stay in the Thailand. The exception is the right of citizens of certain countries to stay in the Thailand up to 30 days for traveling purposes (stamp on arrival).
We will help you to choose visa type that fits you the best way.
Non-immigrant business visa (Non-B)
The visa is issued by the Thai consulate upon applying documents confirming further employment of a foreigner in the Kingdom. Documents are prepared by the future employer. A non-B visa is issued for 90 days, during which the foreigner must obtain a work permit. After obtaining permit, visa can be extended for a period of 90 days, 6 months or one year.
Non-B visa itself doesn't allow the foreigner to work in Thailand, you can start working only after obtaining a work permit.
Dependent Visa (Non-O)
After obtaining a work permit and a non-B visa extension, a foreigner's spouse and children are entitled to receive a non-O visa for the term of the main non-B visa.
Retirement Visa, Non-O-A
You can get this visa if you are 50 years and more. The applicant should have money on his account in a Thai bank in the amount of 800,000 Baht (must be kept on the account for 3 months before the date of visa application) or a monthly confirmed income (pension) not less than 65,000 Baht.
Visa Thailand Elite
Long-term visas for 5, 10 or 20 years fits to you is you desires to become a member of the Thailand Elite Club and get status of VIP-guest of the Land of Smiles. This type of visa is suitable for recreation, studying the investment climate, training, permanent living in Thailand for a single person or a family. Holder of the card Thailand Elite has the right to receive privileges and benefits provided by the Club, in accordance with the purchased package.
Do you have questions about Thai Visas? Call us now and we will solve all your problems!
+6694-866-74-92 (WhatsApp, Viber)
Related articles: