Frequently asked questions
Answers for common questions:
We have collected for you the answers to the most frequently asked questions regarding the applying for visa and using of Thailand's Elite visas. If you have not found the answer to your question, please contact us in any convenient way. Description and cost of visas Thailand Elite for different categories can be found on this link.
1. What the procedure for negotiating and obtaining a visa Thailand Elite?
1.1. Provide all necessary documents for obtaining a visa Thailand Elite:
1) Copy of the first page of the passport in good colored quality (the passport must have at least 3 blank pages and more than 12 months before the expiration date)
2) A good quality photo for a membership card (3.5 x 4.5 sm) in digital form (jpg file)
3) Correctly filled and signed application form
4) For family type of visas, it is necessary to provide documents proving the relationship (marriage certificate, birth certificate).
If the document is not in English, then the document must be previously legalized in the Ministry of Foreign Affairs of Thailand *.
* We provide support to our clients, and also advise on legalization of documents.
Please contact us at 094 886 7492 or [email protected] for more information.
Initially, the questionnaire can be sent electronically for pre-registration, then, it is necessary to send a hard copy (with the original signature) by mail.
After the submission of the entire package of documents, the candidate have to go thought immigration check, it takes from 1 to 3 months.
1.2. After receiving the approval from the immigration, you will get an approval letter with the details for the payment of the visa. You can pay for the visa both from Thailand (in baht) and from abroad (in US dollars).
To confirm payment, you need to provide a copy of the payment.
1.3. After receiving the confirmation of the payment from Thailand Elite, Member will be registered in the system, it takes 5 working days.
After that, you will receive Welcome Letter to your email of a membership in the Thailand elite club.
1.4. Further you can book the date and method of obtaining a Thailand Elite visa on your passport. Make this necessary, at least 5 working days.
2. How long does the visa approval process take?
The whole process takes at least 1 month, up to 3 month.
3. Verification of candidates

The basic test for the foreigner for Thailand Elite Membership includes checking the candidates by Thai police and immigration officials.
There are a number of basic requirements for obtaining approval for the candidates:
1) Holding a foreign passport
2) Legally residing in the territory of Thailand
3) The lack of a criminal record (except for minor offenses)
4) The lack of a bankrupt status,
5) Lack of mental disorders
6) Being at the legal age (over 20 years old) *
* Relevant only for Individual Membership
4. Methods of obtaining visas (sticker) Thailand Elite in the passport:
- In any Consulate of Thailand (firstly in their own country)
- Automatically when entering the country in the Suvarnabhumi airport (at the time of entry to Thailand customer should have a Member Card of Thailand Elite)
- Immigration office Сhaengwattana in Bangkok
5. How the Thailand Elite visa look?
Visa Thailand Elite is a sticker in the passport, as well as any other visa.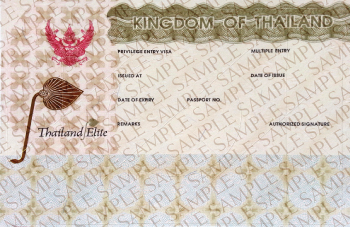 6. How to make the 90-day report at the immigration office (by yourself or by EPA service)?
- Implementation of the 90-day report can be made online at the immigration office website at: https://extranet.immigration.go.th/fn90online (link only works in Internet Explorer)
- Members residing in Bangkok, according to the scheduled date must bring their passport to the TE office on Tuesday; every Wednesday TE employees independently carry out a 90-day report. The passport can be picked up at the office on Thursday. The service is free.
- Members residing in Phuket, Pattaya and Chiang Mai can bring their passports to the counterparty at the addresses:
Chiangmai: Star Visa Service
Phuket: Phuket Visa Law Office
Chonburi: N.A. Service (202/132 Moo 9, Nongprue, Banhlamung, Chonburi 20150)
Before visiting the office of agent, Member should contact the contact center of Thailand Elite:
+66 (0) 2352 3000 to order this service. The service is provided free of charge.
7. What is process of visa extension (1 time per year)?
In the case of a continuous visit Thailand Elite card holder in the country for one year after the deadline Thailand Elite card holders must personally visit the Immigration office at their place of residence and to pay 1,900 baht for a visa extension for 1 year.
However, there is no need to make an extension of 1 year if you stay in Thailand is less than 1 year. Each time you enter the country with "Privilege Entry Visa", you will get a stamp for 1 year.
Note: If Membership of Thailand Elite needs help of Thailand Elite Club (the EPL service) with immigration authorities. First time this is free of charge, subsequent visits are have to pay additionally (2000 baht \ for visit).
8. Do I need to get a re-entry permit visa for Thailand Elite?
No, re-entry permit is not needed. Thailand Elite Visa is multivisa with an unlimited number of entries.
9. Can children be a Members of Thailand Elite?
Yes, children (any age) can be also Thailand Elite Card holders.
Only in the category Thailand Elite Ultimate Privilege Card may qualify people aged over 20 years, the other types of cards do not have age restrictions.
11. Can I get a work permit for Thailand Elite Visa? What does mean "the acceleration and assistance in obtaining work permit"
Work permit in Thailand can be obtained only under a valid working (non-b) visa. For cardholders who wish to obtain a work permit when entering the country you will need to obtain a business visa. However, he can still use all privileges of the club Thailand Elite, such as airport service, 90-day report, golf, spa, etc.
All cardholders of Thailand Elite can look forward to free public service concierge, which can be used to speed up government processes in obtaining a work permit: to get a letter from the Ministry of Labor, etc. Also, Officer of the Club can be provided if necessary to aid in communications in the Immigration Police and other government services.
This service must be booked in advance via the contact center : + 66 (0) 2352 3000
Remarks:
* Thailand Elite Members should pay attention, if you enter Thailand with your non-b visa with permission to work, to leave the country will also be carried out by your business visa (which is not a multi-visa and requires to make re-entry permit visa during your trips abroad). If you want to take advantage of Thailand Elite visa for the next entry, you must first cancel your business visa before you leave the country, and then enter with you Thailand Elite visa next time.
** Visa Thailand Elite is classified as a tourist visa.
12. What does it mean "business networking" for members Thailand Elite.
Company Thailand Elite, as investment adviser and legal consultant, conducts various business activities throughout the year for the members.
This is done with a view to presenting the elite club of Thailand Elite and to introduce members to each other, to share experiences, opportunities for further business cooperation and collaboration. Experienced members of the club can share with new useful information and experience to take advantage of the club in Thailand, etc.
In addition, cardholders can get a Thailand Elite consulting support in the field of investment and legal issues. Company Thailand Elite can help to Members in communication with the BOI (Board of Investment) if it's necessary.
13. How does the system of communication working between the client and service EPA (Elite Personal Assistant)?
After the client has received a welcome letter with the identification number of the Club Member, he will receive a welcome letter that will indicate that the card holder must contact the Contact Center to update the date and time of arrival in the country to obtain a visa at the airport.
* In this case, we are talking about how to obtain a visa on arrival at Suvarnabhumi Airport
Note: The reservation service should be notified about the arrival of Thailand Elite Member to the country for 5 days prior to arrival date.
14. The possibility to get a discount for a large group?
Thailand Elite Company does not provide discounts as Club provides a unique opportunity to be become part of an elite club.
Definitions:
EPA: Elite Personal Assistant (in the airport)
EPL: Elite Personal Liaison (Immigration Service, the 90-day report and the government's concierge).
For more information, please contact +66 94 886 7492 or send email to [email protected]